Con Mr.R estos días en el trabajo nos ha tocado heavy! Por si acaso no lo saben con Mr.R tenemos una pequeña compañía de consultoria en e-marketing. (Si necesitan el diseño estratégico de su pagina web estamos a la orden: www.grupowebbox.com) Gracias a Dios hemos pasado con bastante trabajo y de vez en cuando es super necesario un almuerzo ejecutivo para mantenernos en sinc y sacar ideas. Nos fuimos a almorzar a La Pampa de la Zona Rosa. #LibritasBusinessModeOn
These days at work with Mr.R have been super busy! Just in case you didn't know with Mr.R we have a small e-marketing consulting company. (So if you need an strategic design of your web site look us up at:
www.grupowebbox.com) Thank God we have a lot of work and from time to time it's necessary to have a 
business lunch to keep us in sync and brainstorm for new ideas. We went to La Pampa in the Zona Rosa.
#LibritasBusinessModeOn
Hoy con tantas Pampas conquistando cada esquina de El Salvador (Pampa Coatepeque, Pampa en Ataco, Pampa en la Costa del Sol, Pampas everywhere), Cada una con un concepto diferente, pero con las mismas características que las hacen tan especial. La Pampa de la Zona Rosa tiene un vibra más ejecutiva, es perfecta para un almuerzo de negocios.  No es de las Pampas más atractivas comparándola con las nuevas, ni la más moderna, pero me gusta un montón porque su ambiente es clásico, elegante e íntimo.  La Pampa de la Zona Rosa está ubicada en Centro Comercial Suites Las Palmas en el Boulevard del Hipódromo.
Today with so many Pampas conquering every corner of El Salvador (Pampa Coatepeque, Pampa in Ataco,
Pampa in Costa del Sol, Pampas everywhere!) each with a different concept, but with the same
characteristics that makes them so special. La Pampa Zona Rosa has a more executive vibe,
perfect for a business lunch. It is not the most attractive compared to new Pampas, nor the most
modern, but I like a lot because of its atmosphere… is classic, elegant and intimate.
La Pampa in Zona Rosa is located in Las Palmas Suites shopping center on the Boulevard del Hipódromo.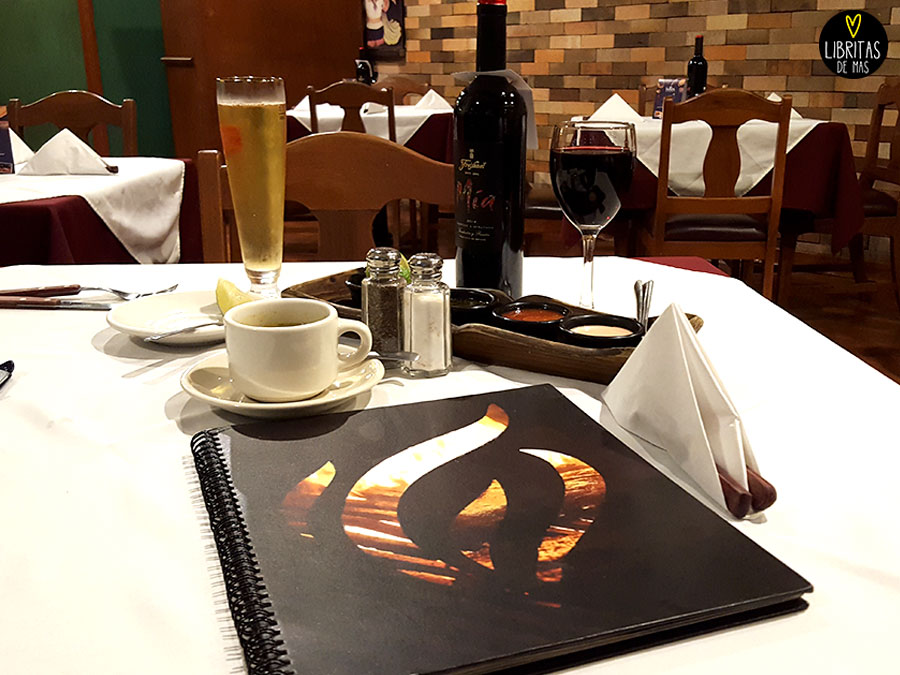 La Pampa Argentina es una cadena de restaurantes famosa por sus carnes, el menú es bastante amplio y encontrarás de todo, pastas, mariscos, carnes, ensaladas, sopas y más. Como ya les he contado, Mr.R es amante de la carne así que inmediatamente busco la sección de carnes en el menú y encontró el Rib Eye, 12 onzas de Rib Eye Steak. Precio $25
La Pampa Argentina is a chain of restaurants here in El Salvador famous for their meat, the menu is quite extensive and you will find everything from pastas, seafood, meats, salads, soups and more. As I've already told you, Mr.R is a meat lover so he immediately looked for the steaks section on the menu and found the Rib Eye, 12oz  of Rib Eye Steak. Price $ 25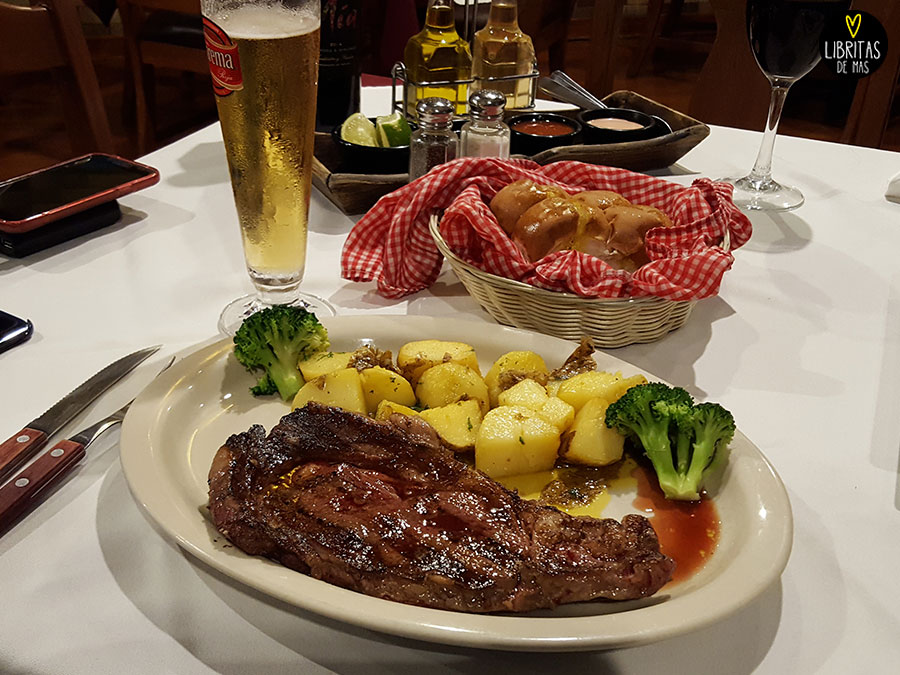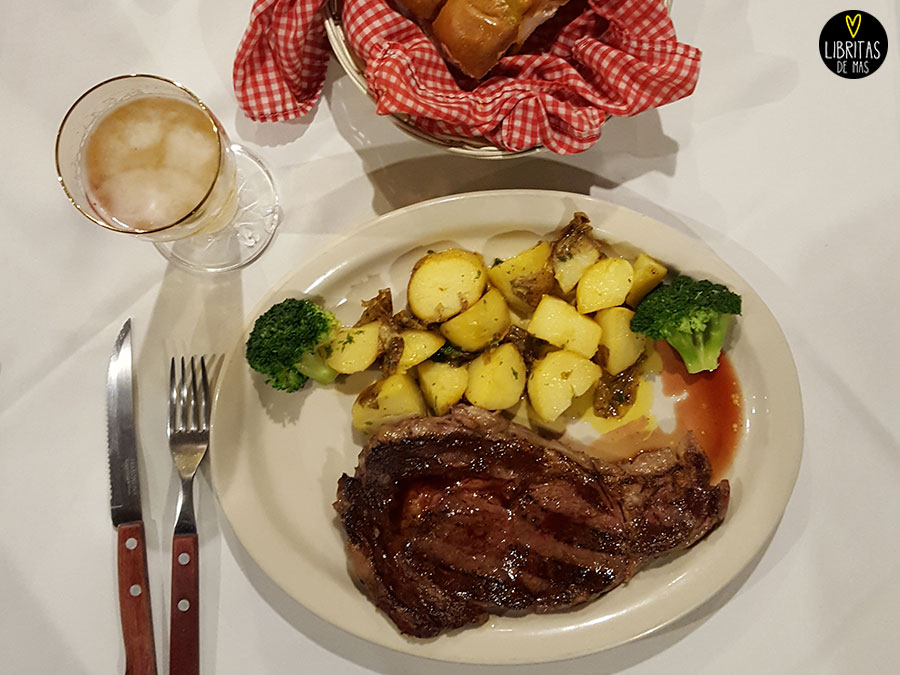 Antes de venir el plato principal te dan la bienvenida con un caldito calientito y luego una fresca porción de ensalada. Si, el precio del Rib Eye está algo cariñoso pero la cara de felicidad de Mr.R  no tiene precio… Viene acompañado de papitas horneadas. No quiso que le robara ni un solo bocado, pero se veía espectacular. En sus palabras "jugoso, muy bien preparado" Son 12 onzas así que es una muy buena porción de Rib Eye Steak.
Before the main course you are greeted with a warm "caldito" (I´m not sure how that translates but is like a cup of warm delicious type of broth) and then a portion of fresh salad. Yes, the price of the Rib Eye is somewhat expensive but the happiness on Mr.R's face was priceless … The dish comes with a side of baked chips. He did not want me to steal a single bite, but it looked spectacular. In his words "juicy, very well prepared" and 12 ounces is a very good portion of Rib Eye Steak.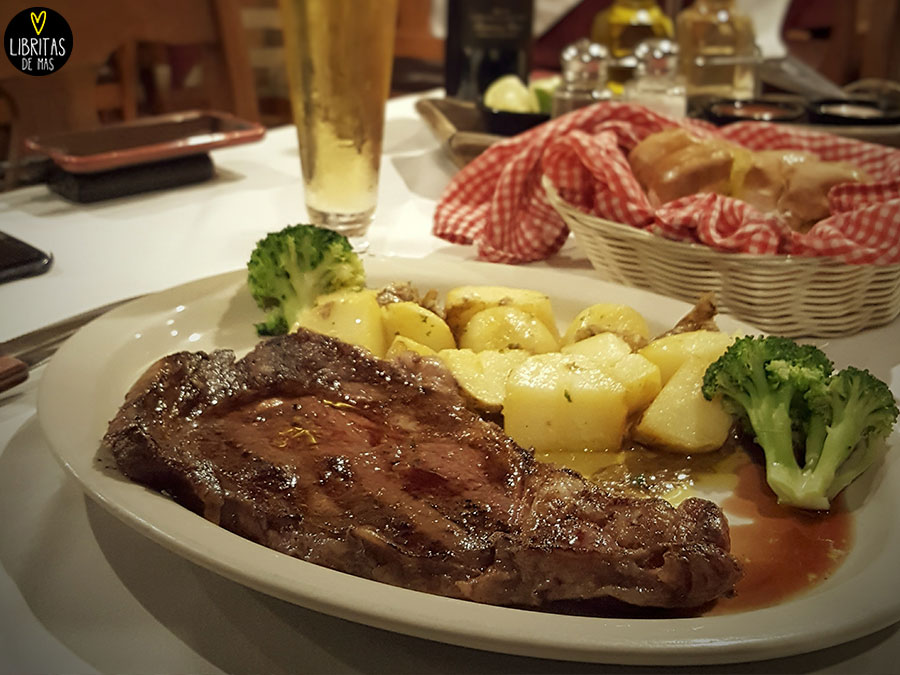 Yo pedí el Steak Neptuno. 8 onzas de Lomito de Aguja con camarones cubierto de queso mozzarella acompañado de vegetales y una papa horneada. Precio $23.00
I ordered the Steak Neptuno. 8 ounces of beef tenderloin with shrimp covered with mozzarella cheese, a side of vegetables and a baked potato. Price $ 23.00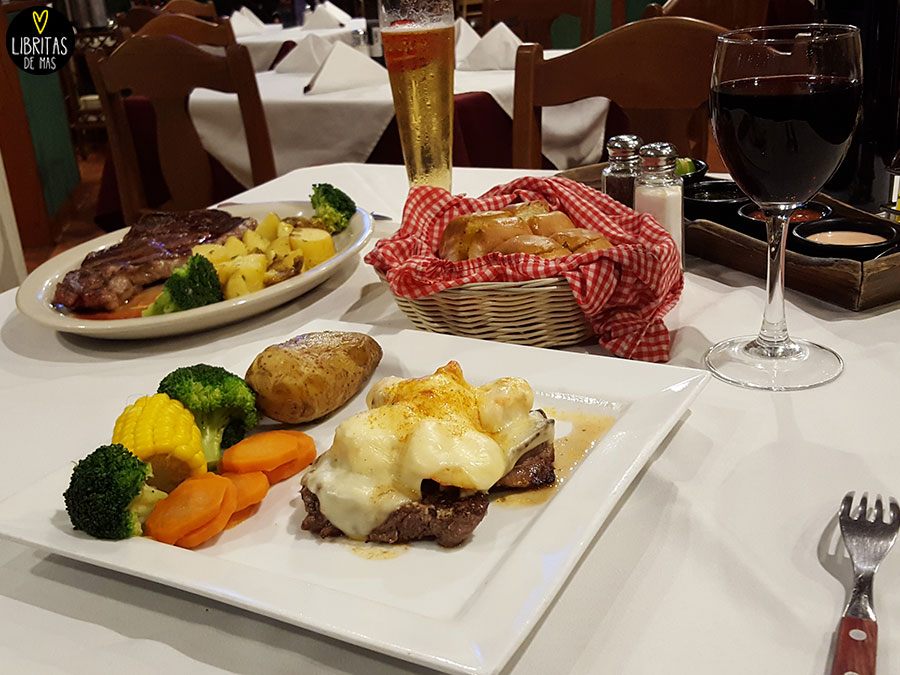 Un plato exquisito, la carne en su punto, el queso mozzarella calientito… #SoGood
An exquisite dish, the meat perfectly prepared and the warm mozzarella cheese … #SoGood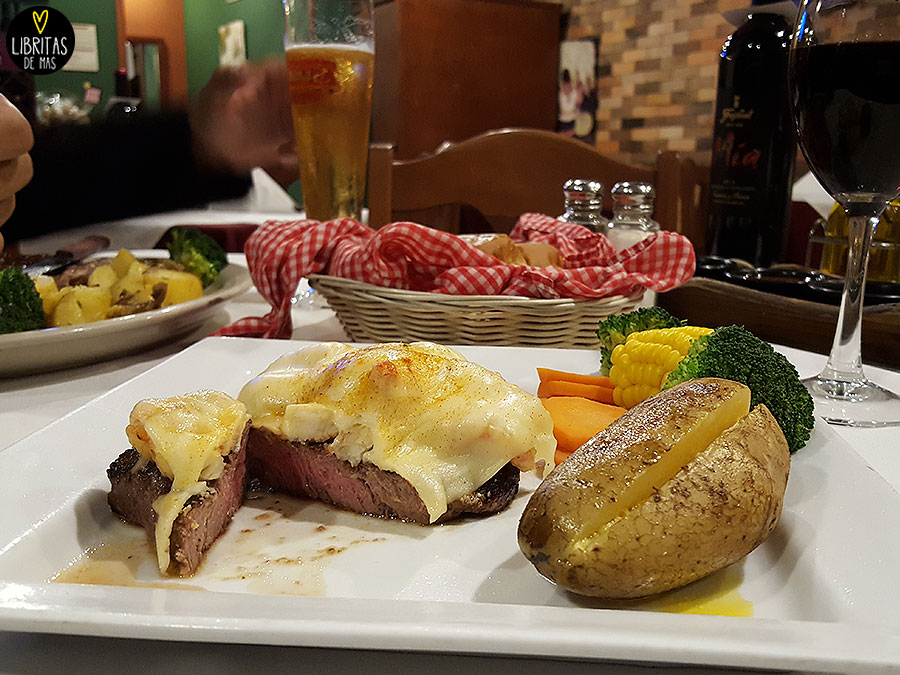 La calidad que siempre ha representado la Pampa es indiscutible. Para cerrar con broche de oro pedimos cada uno un postre. Mr. R pidió un Tiramisú y yo pedí una Empanada de Nutella acompañada de sorbete. Quería cerrar con broche de oro esta exquisita cena, pero este postre no lo hizo para mi… Me pareció pequeño… la masa de la empanada estaba muy durita… No me convenció para nada. Precio $4.00
The quality that has always represented the Pampa is indisputable. To finish the night with a seal of gold we each asked for a dessert. Mr. R ordered a Tiramisu and I ordered a Nutella Empanada with a ball of vanilla ice cream. I wanted to finish this exquisite dinner with the perfect dessert, but this dessert did not do it for me … It seemed small … the dough of the "empanada" was very hard … It did not do it for me at all. Price $ 4.00