Me moría de ganas por probar la Fisheria, este restaurante de mariscos que está en la Cl. Circunvalación (Abajo te dejo el mapita) Esta donde antes estaba La Tour en la Col. San Benito. Me llamo mucho la atención el logo, la línea gráfica y el concepto en sí de los mariscos con un toque moderno "Modern Seafood & Grill" El restaurante está muy bien decorado, con muebles contemporáneos.
I was dying to try this restaurant Fisheria, this seafood restaurant is located in the Circunvalación street (You will find the map below)  I was very impressed with the logo, the design and the concept of this seafood restaurant with a modern twist. «Modern Seafood & Grill» The restaurant is beautifully decorated with contemporary furniture.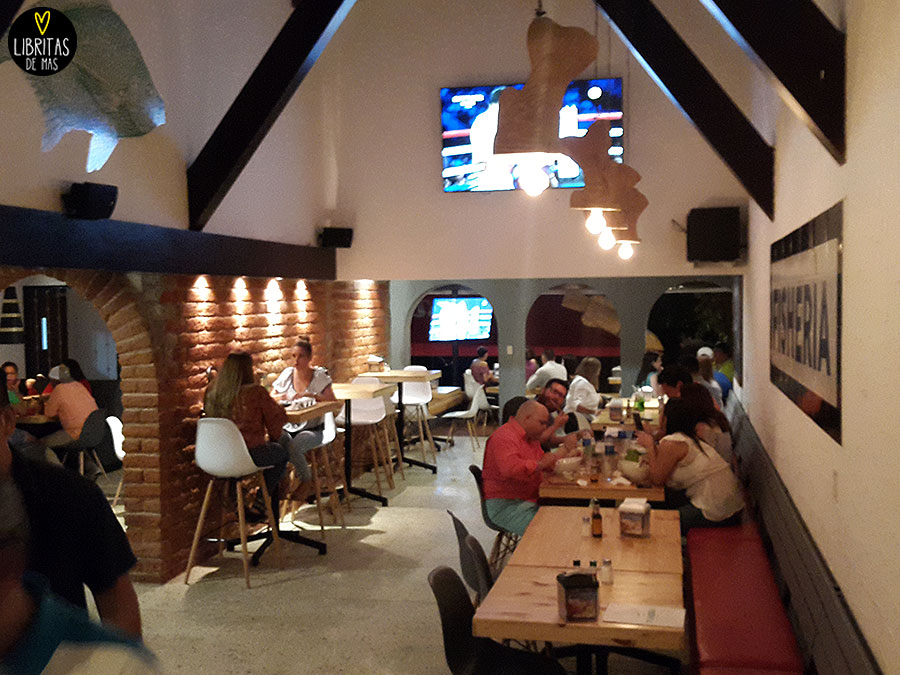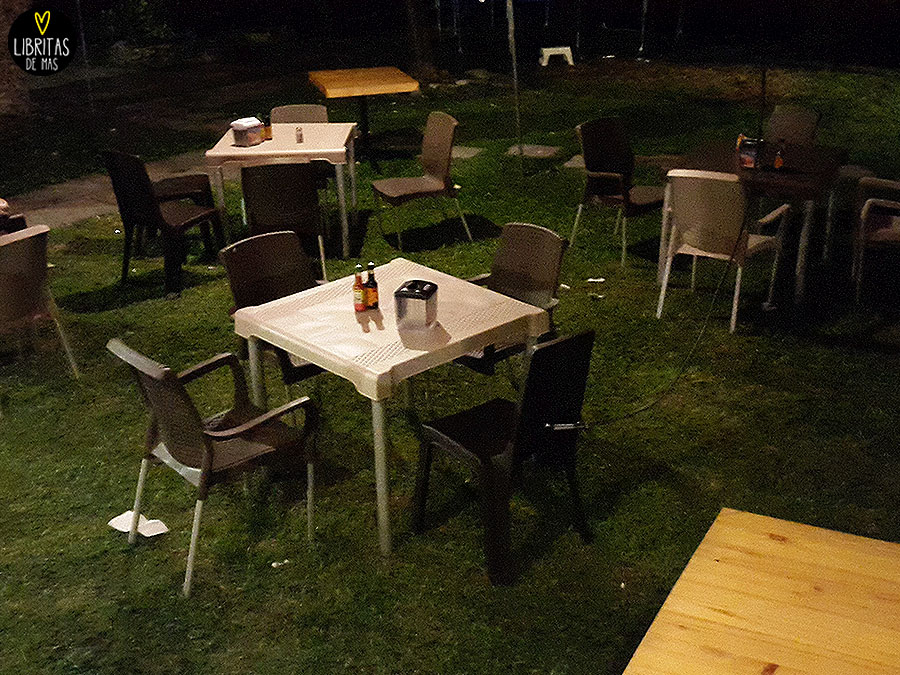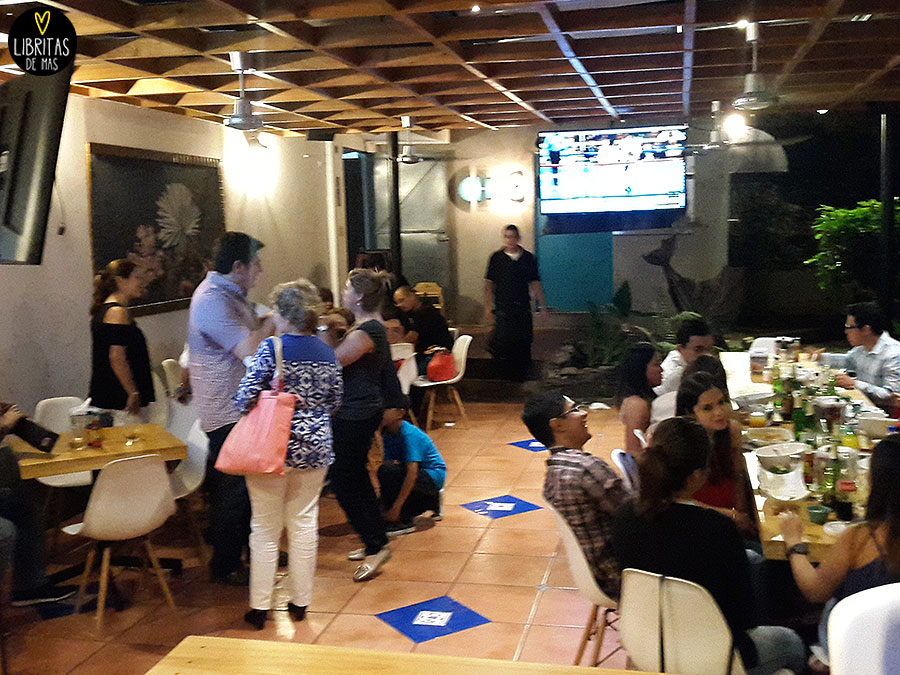 Nos sentamos con la familia en la terracita techada y empezamos a ojear el menú que me saco una sonrisa cuando vi los nombres de los platillos en un Spanglish bastante gracioso #WellDone!  Al papá de Mr.R le gustan mucho las pescadetas así que para empezar pedimos una orden de Little Pescadetas para compartir y yo una Michelada con el Mix especial de la Fisheria y para comer mi familia pidió sus platos y yo una orden de Tacos de Crispy Fish.
We sat down with the family on the terrace and started flipping through the menu which made me smile when I saw the names of the dishes in a funny Spanglish #WellDone! Mr.R's dad really likes «Pescadetas» so to begin we ordered «The Little Pescadetas» to share  & a Michelada with the Fisheria Special Mix and to eat my family ordered their dishes and I ordered an the «The Tacos Crispy Fish»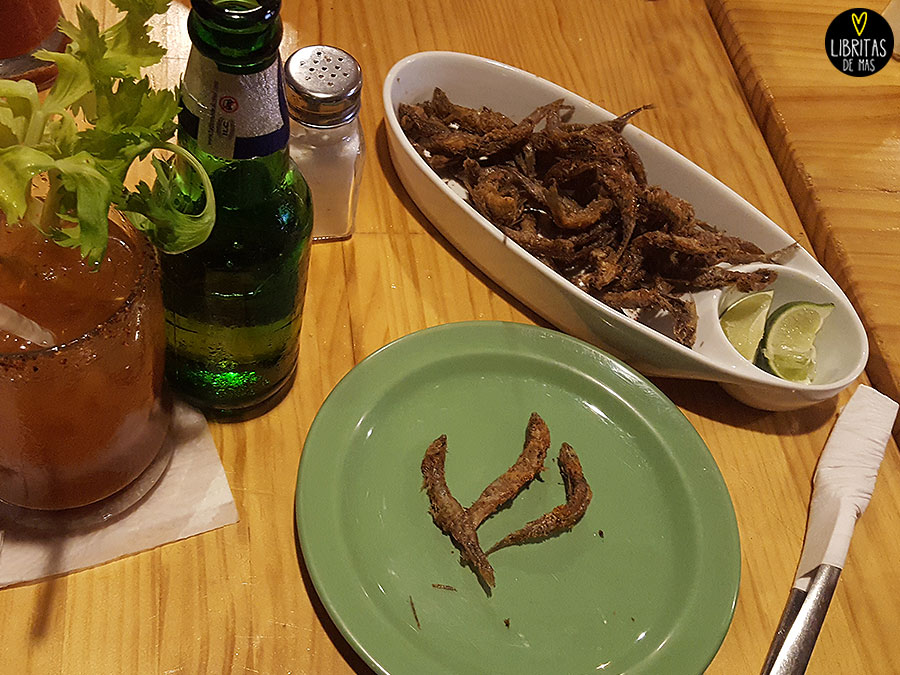 Llego la orden de las Little Pescadetas, un par de bebidas y mi Michelada que lleva apio, 2 camarones pequeños, una aceituna y la orilla cubierta de Tajín. La orden de las pescadetas estaba algo pequeña, pero estaban bien crujientes y #Delichuuuz! Precio de las Little Pescadetas $4
La Michelada con el Mix especial de la Fisheria es todo un ¡Éxito! La orilla con Tajín es siempre un sabor tan rico. Precio $2.50
The «Little Pescadetas» arrived at our table, a couple of drinks too and my Michelada with celery, 2 small shrimps, an olive and the rim of the glass with Tajin. The order of «Little Pescadetas» was somewhat small, but they were crispy and #Delichuuuz! Price $4
The Michelada with the special Mix of Fisheria is so good! The rim of the glass with Tajin is always such a good flavor. Price $ 2.50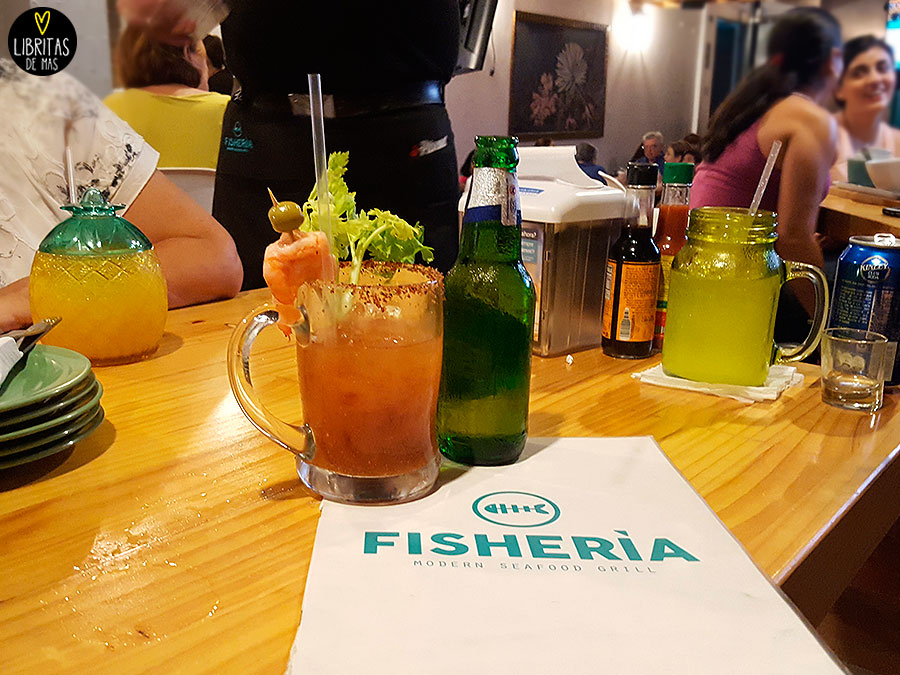 50 minutos después….
50 minutes later….
y ya muriendo de hambre el tío enojado le dijo al mesero "Si nuestra orden no viene en 5min. ¡Nos vamos!" y en eso aparecieron nuestros platillos. Los platos que pedimos no son NADA complicados para justificar la demora. He visto varios comentarios que la queja es siempre la misma, la demora en recibir tu comida. Si la Fisheria ya sabe del mal que padecen saben que necesitan más personas en la cocina. #Anyways, dejando este detalle de lado déjenme contarles de mis Tacos Crispy Fish.
And already starving my angry uncle told the waiter «If our order does not come within 5min. We're leaving! «And that's when our dishes arrived at our table. The dishes we ordered were not complicated to make to justify the delay. I have seen several comments and the complaint is always the same, the delay in receiving the food. If the Fisheria already knows how bad they suffer from this, they know they need more staff in the kitchen. #Anyways, letting this detail aside let me tell you about my Tacos Crispy Fish.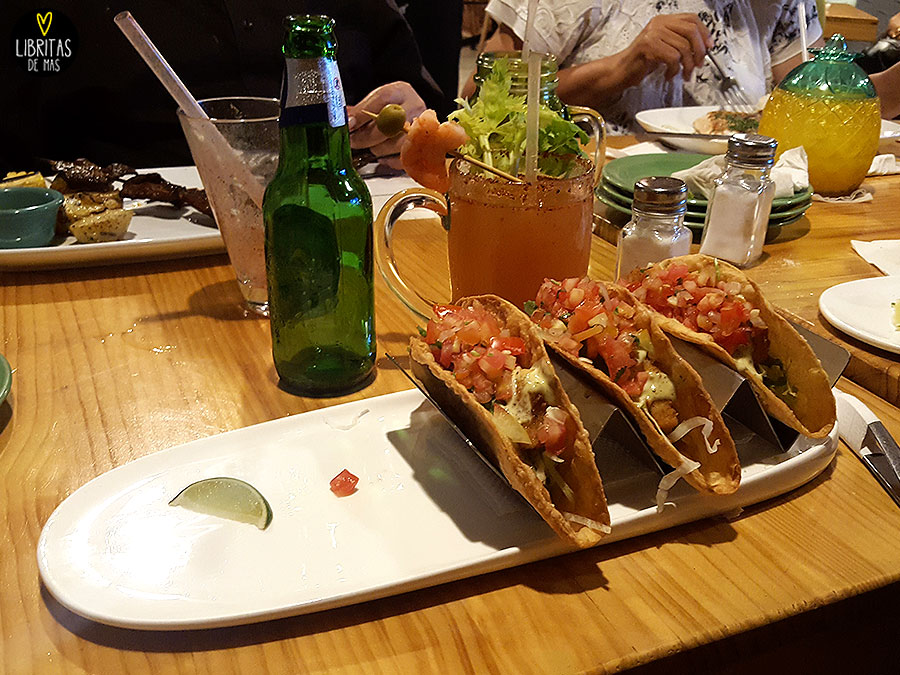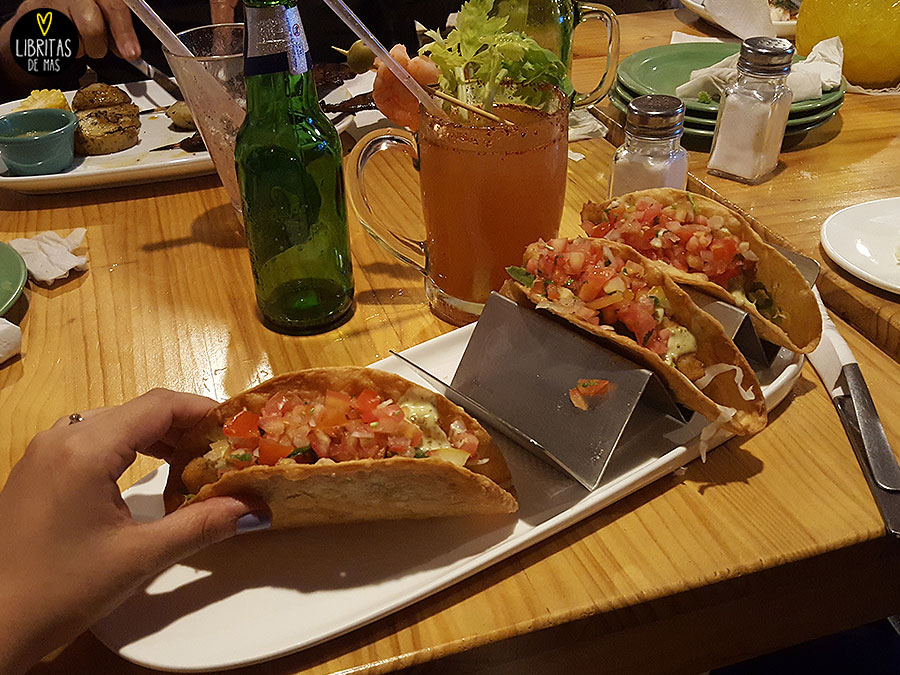 La orden trae 3 crujientes y muy ricos tacos de pescado acompañados de una salsita estilo tártara. ¡Con 2 ya estaba llena! Tienen muy buen tamaño. Precio $7 Y les tengo que contar que Mr.R pidió unos Tacos de Black Pulpo que tenían una salsita diferente y super rica. Sorry que no le tome foto a esos tacos pero Mr.R se los devoro en 3 minutos. #YaHaciaHambre
The order has 3 crisp and very savory fish tacos with Tartar-style sauce. I ate 2 and was already full! They have very good size. Price $ 7 And I have to tell you that Mr.R ordered some Black Octopus Tacos that had a different and super delicious sauce. Sorry I did not take a photo of the tacos but Mr.R devoured them in 3 minutes. #WeWereHungry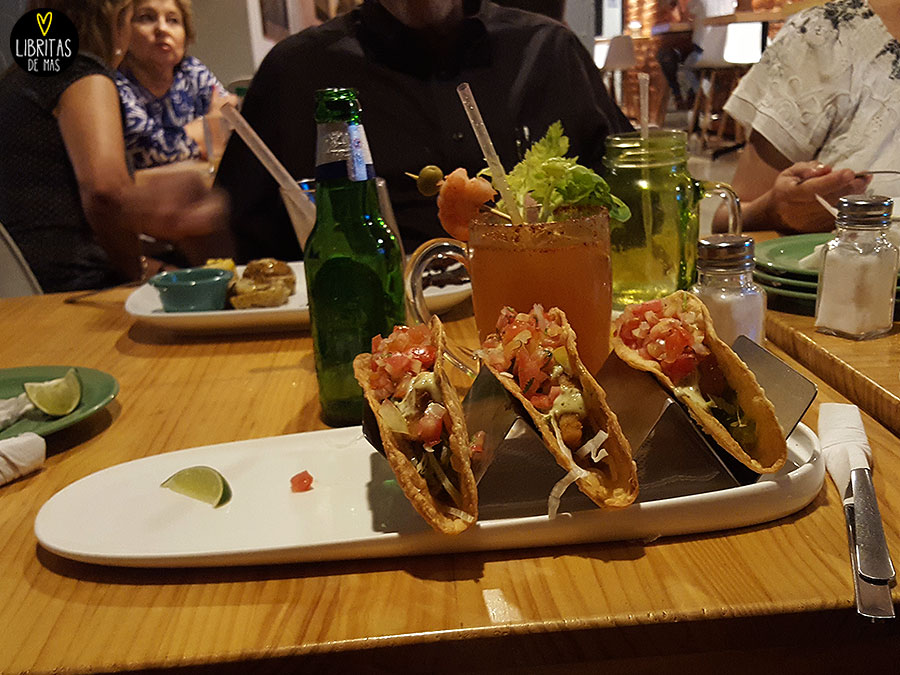 El lugar esta super agradable, la comida está bastante bien, esta chivo para ir con la familia o con los amigochos, lastima la demora con la comida que es algo que definitivamente me haría pensar 2 veces en querer regresar.
The place is super nice, the food is  good, is great to go with family or friends, what sucks is how long they take to bring out the food which is something that would definitely make me think twice about wanting to return.
Cuéntenme ¿Cuanto tiempo están ustedes dispuestos a esperar por su comida? o ¿soy yo la exagerada?
So tell me,  how long are you willing to wait for your food? Or am I exagerrating?
  Mapa                                                                                                                            Horarios
  Map                                                                                                                              Schedule
Lunes a Sábado de 11am a 11pm
Monday – Saturday from 11am to 11pm
Domingos de 11am a 5:30pm
Sunday 11am to 5:30pm