Justo antes de las vacaciones fui a Punto Marino, un restaurancito que está en el Centro Comercial Los Castaños (Ya había ido una vez antes y me pareció super traqui, agradable, perfecto para ir a tomarte un par de cervecitas y ver el partido con los amigos disfrutando de un cóctel de camarones.
Just before the holidays I went to Punto Marino, a restaurant that is located in  Los Castaños Shopping Center here in El Salvador (I had already gone once before and I found it to be super chill, nice, perfect to go to have a couple of beers and watch the game with your friends while enjoying a shrimp cocktail.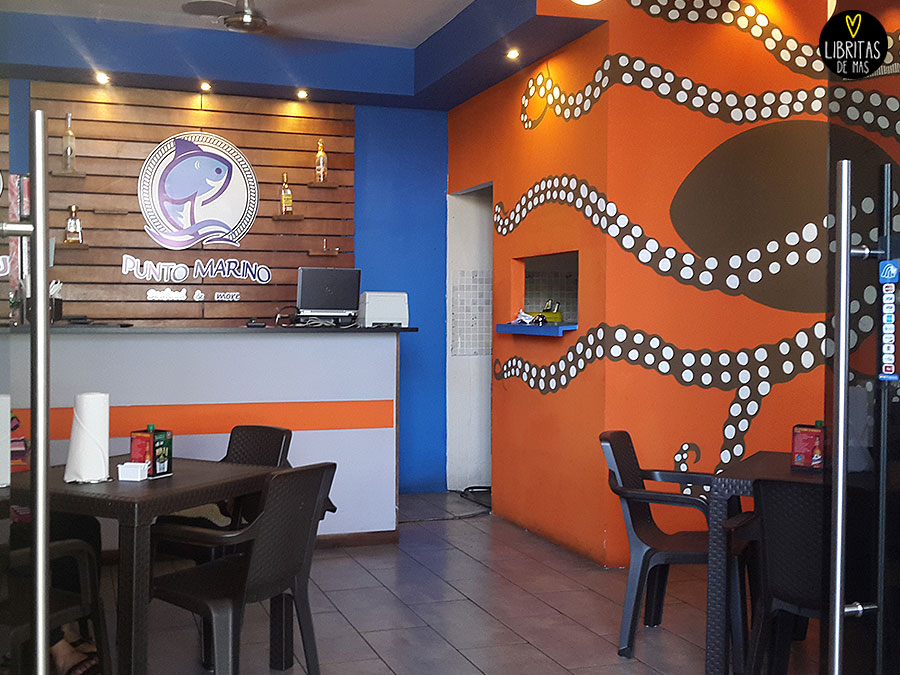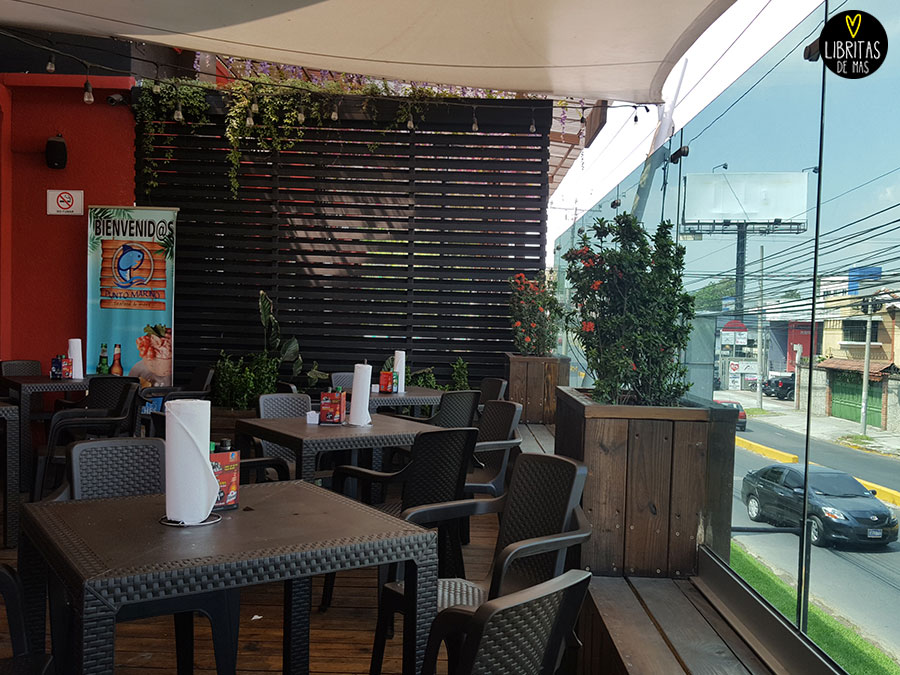 Así que fuimos otra vez, pero esta vez me recomendaron probar el coctel Punto Marino, "Te cambiara la vida" me dijeron…
So we went again, but this time I was told to try the Punto Marino cocktail, "It will change your life" they told me …

Pero primero empezamos con una entrada, Una orden de Chorizos de Tuza. La orden trae 10 chorizos de tuza, frijolitos fritos, chirmol, cebolla morada y tortilla frita.
But first we started with an appetizer, An order of Chorizos de Tuza. The order comes with 10 chorizos de tuza (special salvadorean sausages), fried beans, chopped tomatoes with onions, purple onion and fried tortillas.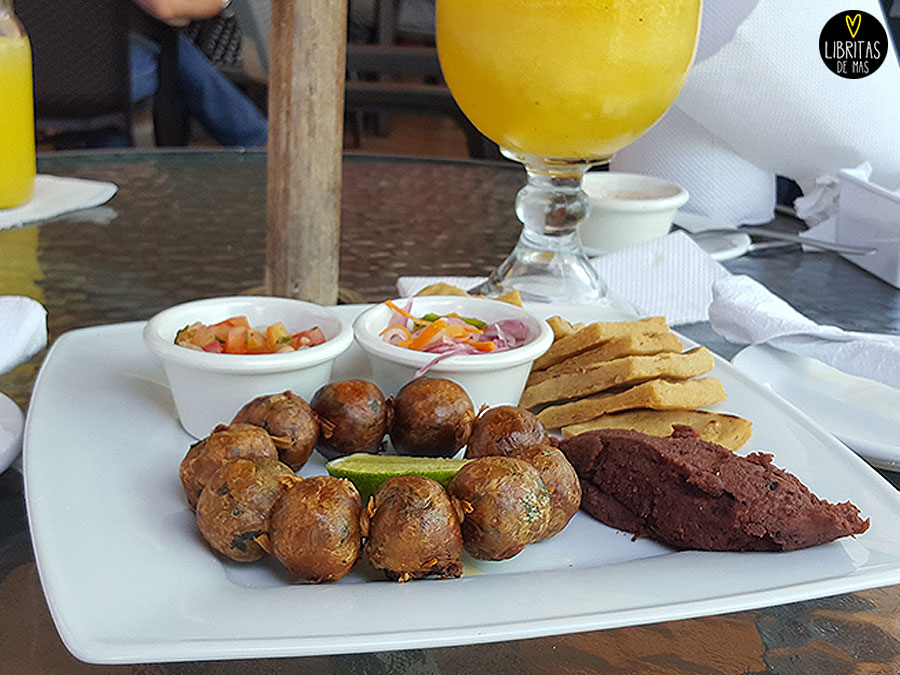 Una muy buena forma de empezar. Los chorizos tienen un toquesito perfecto de picante. Precio $5.50 Perfectos para acompañar un par de cervecitas.
A very good way to start. The sausages have the perfect spicy flair. Price $ 5.50 Perfect to enjoy with a couple of beers.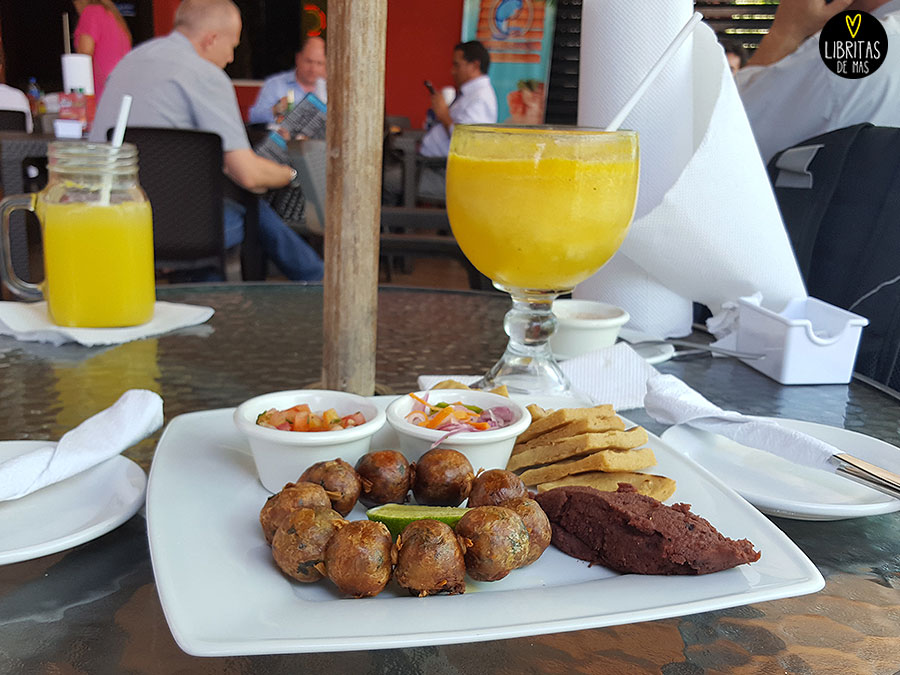 Mr. R pidió un Cóctel 3 Puntos en el que tu escoges la combinación de tus 3 mariscos favoritos entre, camarones, pescado, calamar, caracol, concha y cangrejo. Mr. R escogió camarón, pulpo y cangrejo en salsa rosada. Precio $8.50
Mr. R ordered the "Cóctel 3 Puntos" in which you choose the combination of your 3 favorite seafood like shrimp, fish, squid, snail, and crab meat. Mr. R picked shrimp, octopus and crab meat with the traditional a pink sauce (Ketchup & Mayo). Price $ 8.50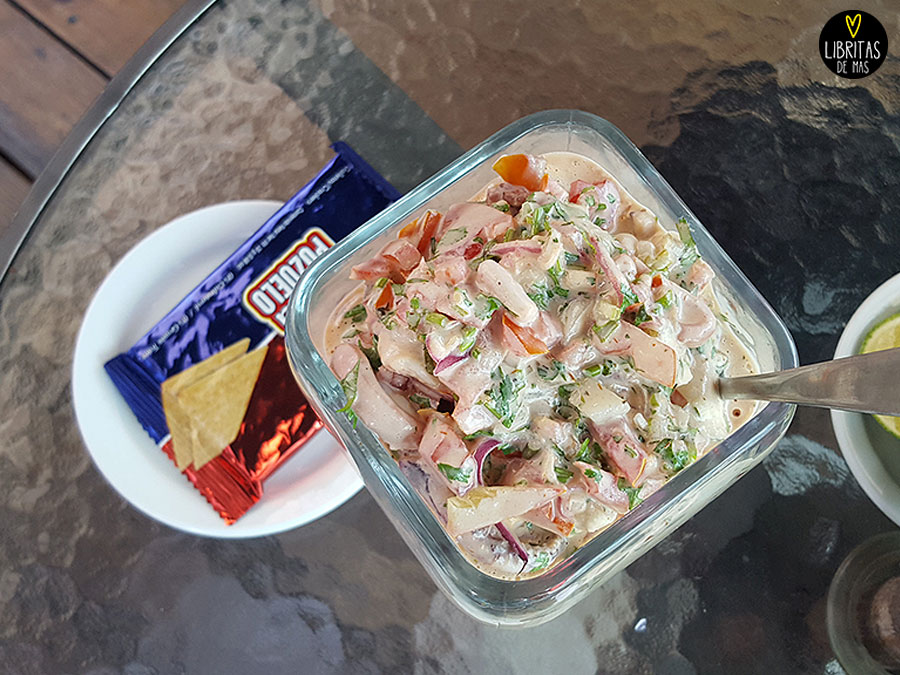 #1 es GRANDOTE
#1 is HUGE
#2 en Punto Marino no los preparan como en otros lugares, quiero decir que la mitad de la copa NO es solo tomate con cebolla y con eso ganaron miles de puntos conmigo, especialmente con Mr.R jaja
# 2 in Punto Marino they do not prepare them as in other places, I mean, that half of the bowl is NOT just tomato with onion and with that they gained thousands of points with me, especially with Mr.R haha
Mr.R llego al fondo de la copa y todavía sacando cucharadas de mariscos. ¡Fabuloso!
Mr.R came to the bottom of the bowl and was still scooping out spoonfuls of seafood. Fabulous!
#3 Es sabroso… #NoEsNecesarioDecirMas
#3 is savory… #NoNeedToSayMore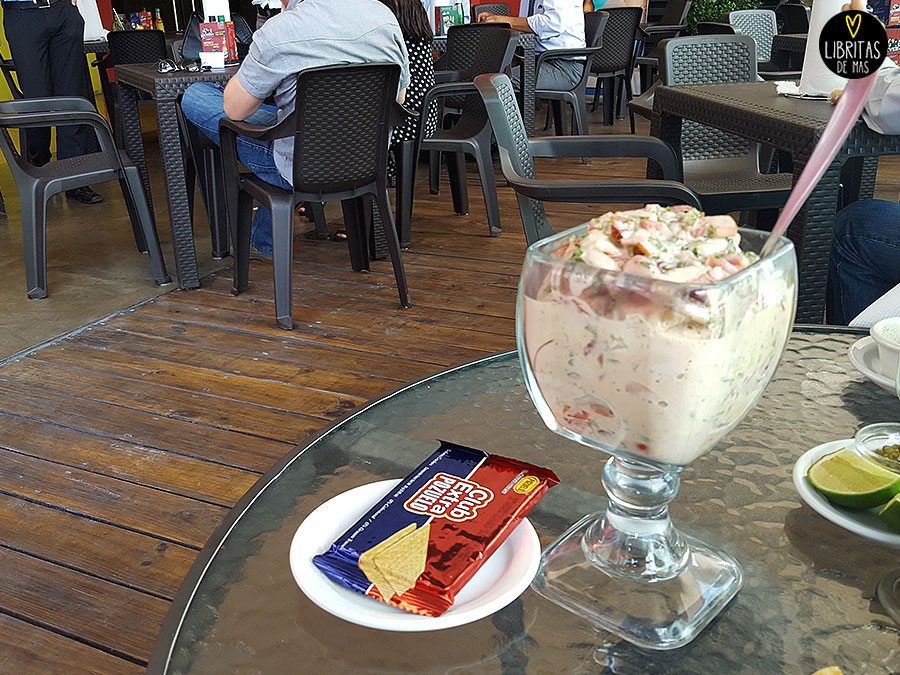 Ahora, El cóctel Punto Marino es ENORME es como para 3 o 4 personas o un gigante troglodita. Lo pedí con salsa Veracruzana, una salsa de tomate con un ligero picantito. Y lleva camarones, pescado, calamar, caracol, concha y cangrejo. ¡Si, TODO eso en un solo coctel! Precio $11.95
Now, the Punto Marino cocktail is HUGE you can easily share it with 3 or 4 people or a troglodyte giant. I ordered it with Veracruzana sauce, a tomato sauce with a spicy flavor. And it comes with shrimp, fish, squid, snail, clams and crab meat. Yes, ALL that in one cocktail! Price: $ 11.95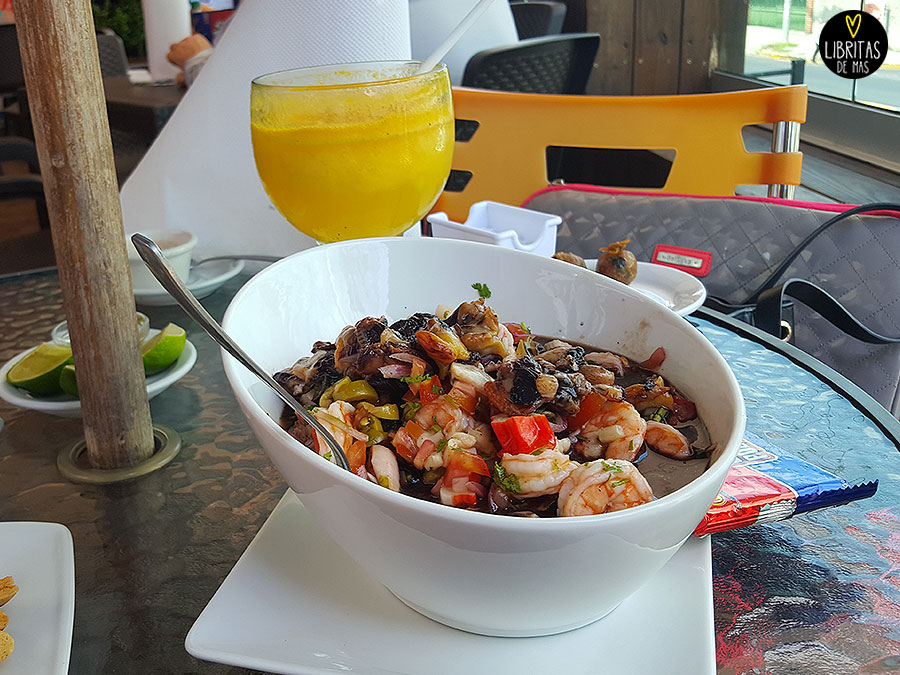 ¿Ya les dije que es ENORME? Es ENORME y tan rico… Las conchas estaban frescas y bailaban con el jugo de limón que les caía. Cucharada tras cucharada de frescos mariscos. Oh super #Delichuuuz! No llegue ni a la mitad y el resto lo lleve a casa 😊
Did I already tell you that it is HUGE? It is HUGE and so good … The clams were fresh and they danced with the lemon juice that fell over them. Spoonful after spoonful of fresh seafood. Oh super #Delichuuuz! I didn't even get to eat half of it beacuse I was full and the rest I had to take home for later. 😊
¡Super recomendado! En serio, nunca había quedado tan feliz con un cóctel ajaja La atención en buena y los precios me parecieron muy buenos. También probé el Frozen de Maracuyá y super rico. El precio del Frozen es de solo $2.50.
Totally recommended! Seriously, I've never been so happy with a cocktail haha The service is good and the prices seemed very good. I also tried the "Maracuja Frozen" and it's really good. The price of the Frozen is only $ 2.50.
Sigue a Punto Marino en Facebook AQUÍ
 Follow Punto Marino on Facebook HERE